Your Country Morning Show with Christina and the Kenman!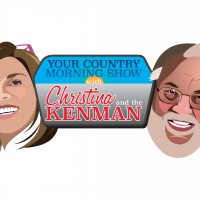 Christina
Christina has worked in Meridian radio since the late 1990s, most notably with Q101 as a member of the Q Morning Zoo and host of the Flashback Lunch.
She has also worked in Country radio in Laurel and Tuscaloosa.
Christina has two children: one is a cosmetology student at ECCC and the younger is a senior at the Mississippi School of the Arts in Brookhaven.
The Ken Man
Has been on the air in the Meridian market for 25 years, and 33 years total in radio. Yes, that's all in a row.
The Ken Man's hobbies include watching Atlanta Braves baseball during the summer, Alabama and the New Orleans Saints football during the fall and winter months, and being a buff on the JFK Assassination.
He enjoys many music types such as Country (of course), Country Classics, and 70's Cheesy Pop.
He has two pugs named Merci and Lulu.
His absolute favorite quote is "Comedy is just a funny way of being serious"  – Peter Ustinov
His favorite things about radio are NO heavy lifting, plenty of cool air, and making listeners' days better during their drive to school or work in the mornings.